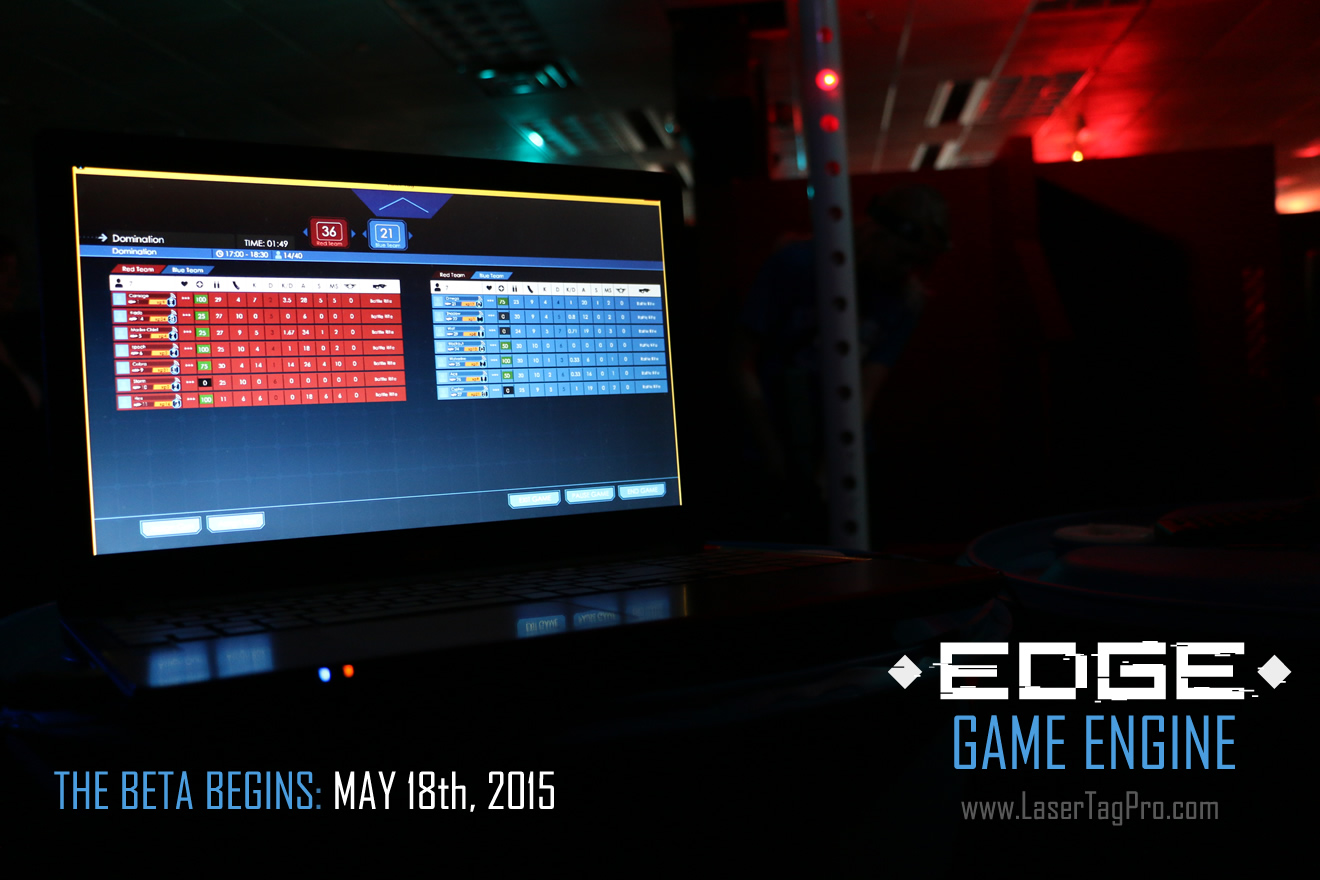 We are excited to announce an official release date for the beta version of our brand new game engine, EDGE. This is an exciting milestone for us as a team, but more importantly it is an opportunity for our customers to unlock the full power of their Laser Tag Pro equipment. We have been working tirelessly to get this software to you and are happy to announce that on May 18th, 2015 the beta version of EDGE will be available for customers to download and use with their Laser Tag Pro systems.
Video Game Type Game Control For Laser Tag
The EDGE 1.0 game engine will focus first on game control.  EDGE allows you to create an endless number of weapon and player types, all with various options that can be saved as presets expediting game creation and execution. To create streamlined battlefield-experiences, business owners must have the ability to speedily administer settings on every one of their laser tag devices. EDGE empowers your laptop with the ability to configure each Battle Rifle Pro and Utility Box through the integrated WiFi modules already installed in your units.

Selecting a Game Mode
When you are ready to play, your saved games are readily available with weapon and player presets already applied. Simply select a game from your customized library, move to the lobby where you can add the desired number of players, and assign your guns. From the game lobby you will move to the versus screen that shows the teams, game time, and other critical pre-game information. Press the start button and the battle begins!
Laser Tag with Scoring and Kill Confirmation
By using EDGE you will have the ability to edit (referee) each individual player in game. You can change the number of lives or ammunition, equip players with different weapons, change their team, respawn on-the-fly, and even penalize players for breaking your rules.
Not only can you quickly control the game parameters, you have direct scoring information for every player. Scoring data can be displayed on a TV as well as the gun LCDs. At the end of the game each player's kills, deaths, accuracy, and longest streak will show up directly on their taggers. EDGE also enables Kill Confirmation through WiFi communication. When a player eliminates an opponent, his tagger will make a sound so there is no question who got the kill.
If you would like a closer look at the EDGE game engine, we will have an intro video on the Laser Tag Pro customer portal very soon.