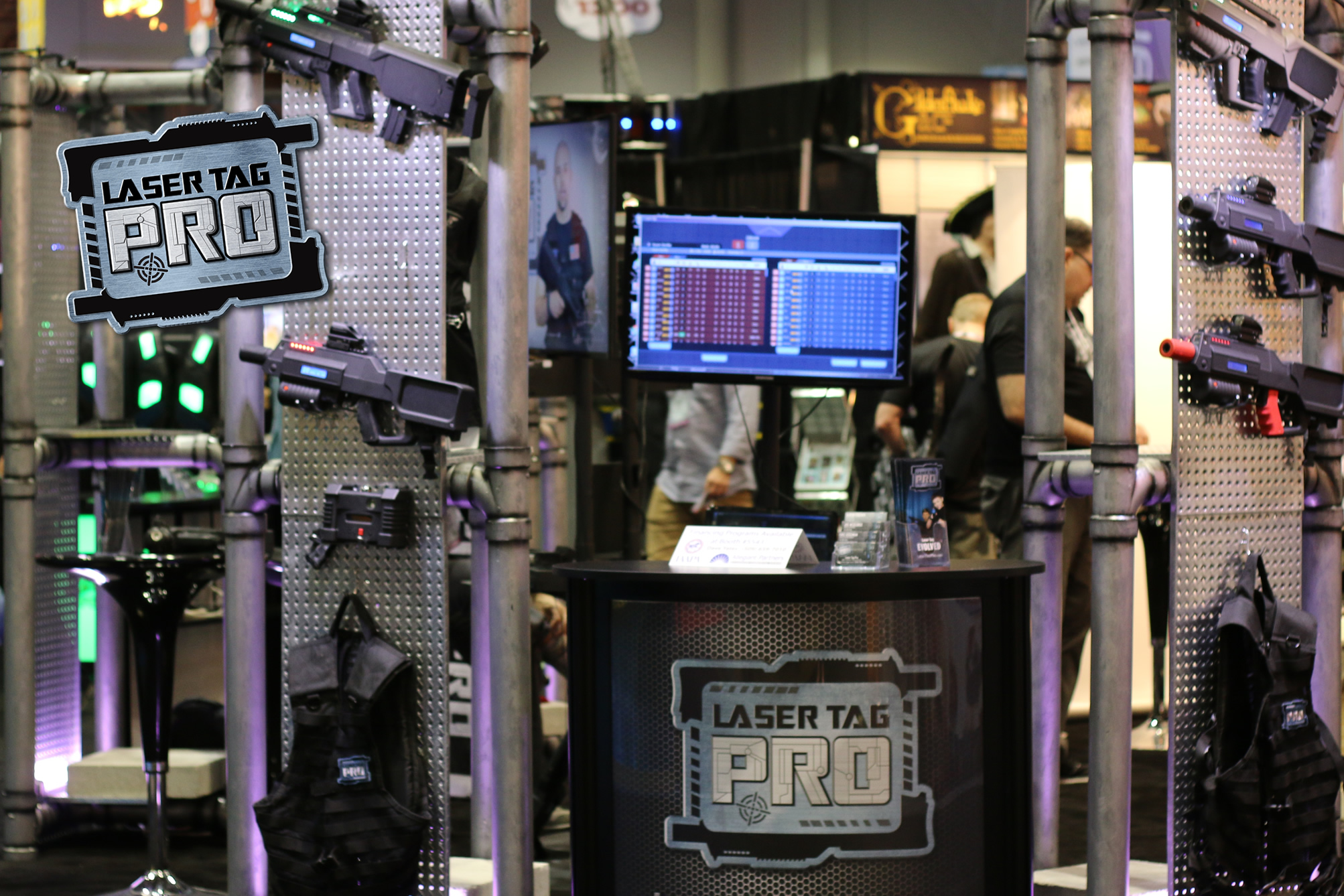 Laser Tag Pro at IAAPA – Guns, Laser Bow, Grenades, Special Project and More!
It was our 3rd year at the IAAPA attractions expo, and Laser Tag Pro blew up the show floor! This was our largest booth to date. We unveiled a number of exciting projects and system upgrades that kept our booth loaded with traffic.  Don't worry if you didn't make it out to the show, we've got your update right here. We've been working hard on the software over the past year and added some new devices to our product line that will take your battlefield to the next level. Make sure your shoes are tied tight because something here may knock your socks off!
BATTLE RIFLE PRO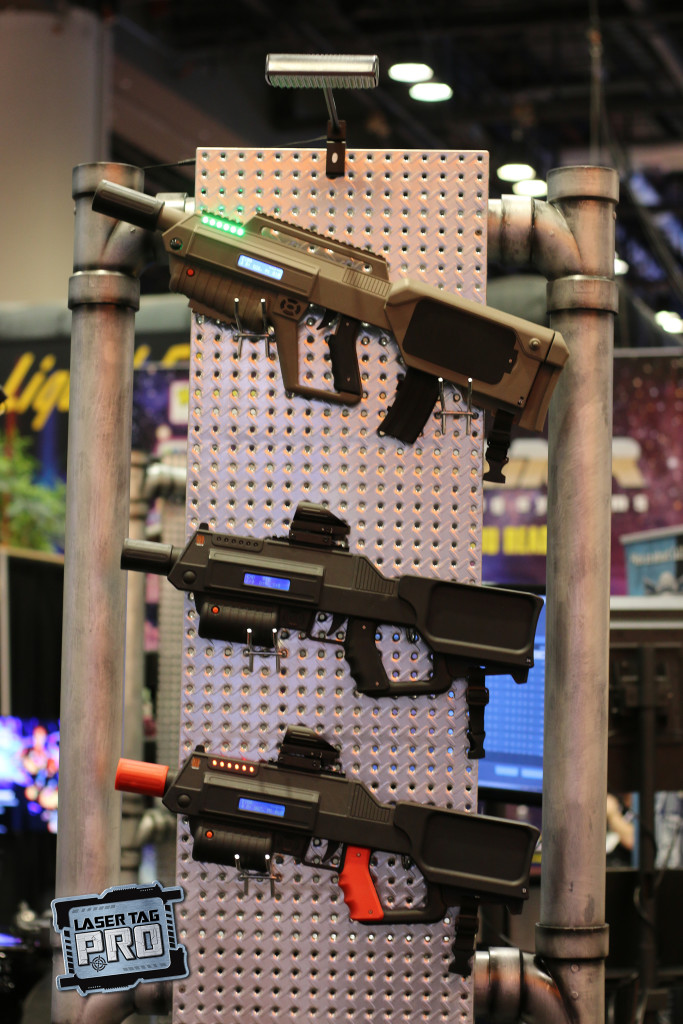 It has arrived! The new Gen 4 Battle Rifle is on the market. We added some interesting color options as well as colored grips and tips. Some of the highlights include a bigger speaker, removable (and remotely rechargeable) battery pack, and direct power to your rail attached gun-sights. Anyone using red-dot sights with a separate battery will appreciate this upgrade. It's time to shed those button-cell batteries and tap directly into the gun's power source. We've increased the capacity of the battery and seated it inside a removable pack that allows for charging, separate from the gun. The new powering solution allows you to keep all of your guns in play with minimal down time. Exchanging batteries is a snap on the new Battle Rifle. It feels a lot like changing a battery on a cordless power tool, except these batteries will keep you going for hours before needing a recharge. Visit the [Gen 4 Battle Rifle Pro release page] https://lasertagpro.com/2015/10/14/best-laser-tag-guns-on-the-market/ to learn more about the latest changes to the BRP.
LASER TAG GRENADE
Looking to engineer some explosives into your games? Earlier this year we added emitters to our wireless headsets that give off explosive, splash, and other types of area damage (read more about our new wireless head-sensors here https://lasertagpro.com/2015/07/09/best-wireless-head-sensors-laser-tag/). Although the headsets are great for area effects, we went one step further and created a grenade that will enhance this critical combat feature, all the more. Our prototype was literally blowing up our booth all week long. This baby packs a punch when rolled near a group of enemy players and like everything else we create can be updated with different grenade types. Trying to capture a guarded flag? Give the enemy a little explosive surprise before you move in to grab their flag! Whatever way you decide to add this accessory to your battlefield, it's sure to get your customers' blood pumping.
LASER BOW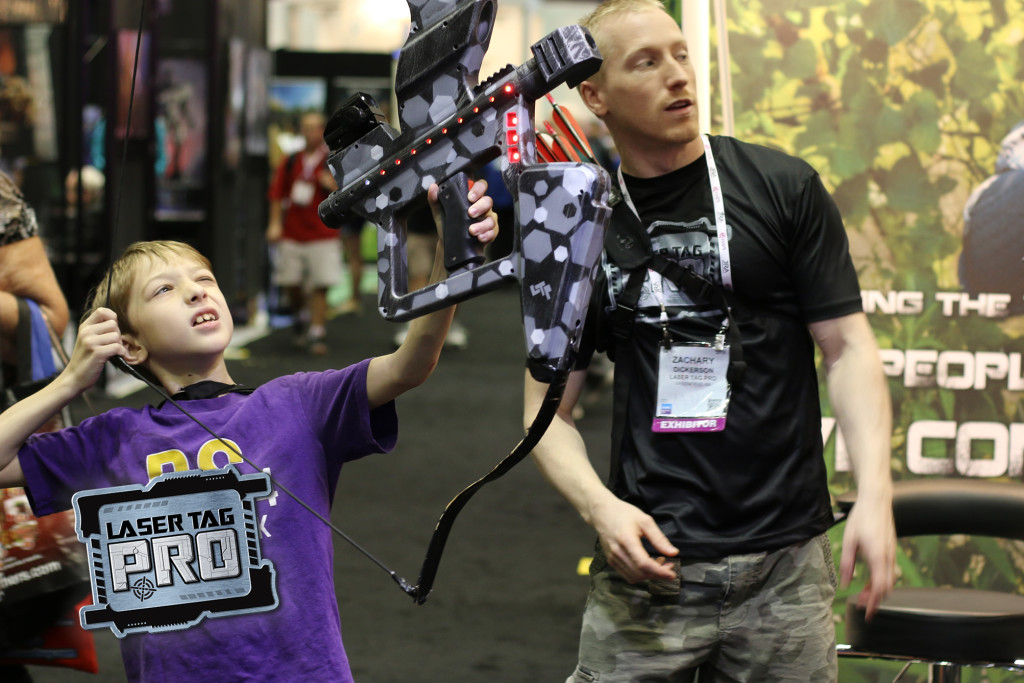 There is no doubt that Laser Tag Pro's newly unveiled Laser Bow is one of the most unique laser tag devices in the industry. Movies such as The Hunger Games, The Lord of the Rings, and The Avengers have created a lot of excitement for bow gameplay. We've created a futuristic recurve bow where you pull back the string and fire. What's really cool is that the bow senses the amount of pull and adjusts damage accordingly. Hear the stretch of the bow as you draw the string back, listen to the release of the arrow; the lights and sounds on this device make for a truly immersive experience. The Laser Bow provides an opportunity to add class-based gameplay to your existing system; or create an army of archers by equipping your battlefield with an entire set! The bow is projected to be available for purchase in 2016.
SOFTWARE
For those of you familiar with Laser Tag Pros vision, you know our aim is to create the most advanced and exciting live-action combat-gaming experience in existence. We've added some great features to the guns to enhance the user's experience. For the business owner, we've boosted the level of control and gameplay options with our software (EDGE), providing full battlefield control. Since its release we've added rule-based integration, Utility Box control, and some really fun game modes. Want a game that automatically ends when certain player types are eliminated from the game? How about the first team to gain 1000 points in a King of the Hill game? What about a flag game where you have to capture the flag 3 times to win? Or maybe you want to put a twist on the tradition timed game, where players weapons upgrade with each kill they get? All of these and many more possibilities are accessible using EDGE. Starting a game is a breeze whether you have 20 or 50 guns and the automation controls the game parameters for you. No matter how many guns you are operating you will find EDGE to be an invaluable component of your business. Current customers can expect an update release very soon with the latest features.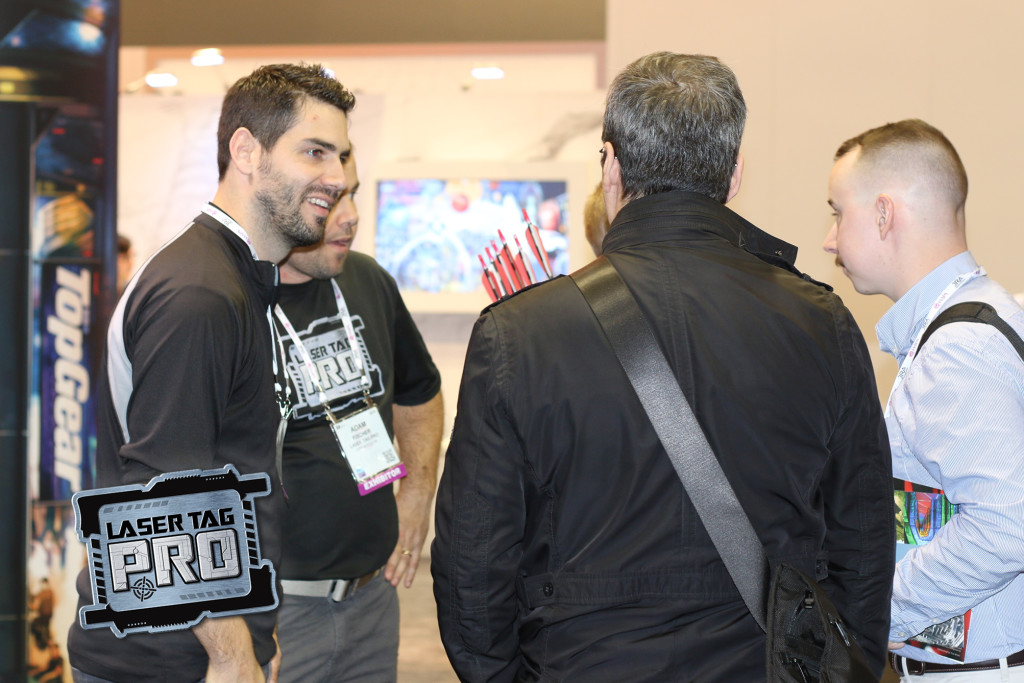 We've received some great feedback from our customers and are continuing to optimize and add features to the software. The next version of EDGE is really exciting, we are on the verge of implementing the smartphone app, Call Sign, so that players can log into your facility, keep their stats, connect with their friends, and level up to unlock weapons and rewards that you have defined for your business. Not only that but it will open up new ways to integrate with the game in ways not utilized ever before in the industry. Customers will have a deep connection to your business and experience when they download the Call Sign app. This will give you direct access to them on their favorite smart device.
PROJECT X???
To top it off, we have been working on a special project that we believe will revolutionize the entirety of the laser tag industry and live action gaming as we know it. It has already opened huge doors for us giving us the opportunity to work with some of the largest and most exciting video game developers in the world. Imagine your customers stepping into their favorite first-person shooter, complete with all of the visuals, graphics, sounds, and gameplay elements. This is the infusion of live action gameplay with modern video gaming. Call Sign will enable you to offer this type of gameplay on your battlefield and control all of the action using your EDGE game engine. We'll have more details as the project unfolds, so keep a close watch on LaserTagPro.com.
CURRENT CUSTOMER PROMOTION
To take full advantage of all the new equipment Laser Tag Pro has to offer, we are announcing a one-time promotion for existing customers. If you are a customer operating with any previous generation equipment, you can get trade-in credit towards the purchase of a new set of Gen 4 Battle Rifles or Battle Rifle XLs. If you would like more details, call our sales line at 888-798-9616 xt.1 to upgrade your gear!